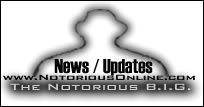 She loved music. Mrs. Delaney remembers singing along to the late rap artist
Biggie Smalls
with her sister. "I will never forget just laughing and having a good time with her," she said.
"Some people want it all. But I don't want nothing at all, if it ain't you baby. For 14 days, Samira Joy Nukho's mother sang her ailing daughter's favorite Alicia Keys song, "If I Ain't Got You," to her in the hospital, as she battled an implacable enemy named Burkitt's lymphoma.
On Monday, the cancer took her life.
For Ms. Nukho, a beautiful and courageous young woman of 21, the future was bright. One of nine children, including a twin sister, she never blended into a crowd. On the contrary: Her vivacious personality and resemblance to singer Keys helped her stand out. "She was always the life of the party," said her twin, Dana Nukho.
When she died in Staten Island University Hospital, Ocean Breeze, after a month-long battle with Burkitt's, one of the most aggressive forms of cancer, she left behind a legacy of love. "Even though a part of me is missing, I know that she will be with me for the rest of my life," said Dana Nukho.
During the two weeks she lay ill in the hospital, Ms. Nukho's brothers, Carl and Patrick Costantino, rarely left her side. "They sat with her every single day and night," Dana Nukho said. A lifelong resident of New Dorp, Samira Nukho often helped her father, Sami Nukho, with his business, JKS Painting Corp. "She was my firstborn. She was the love of my life," he said. Besides the business, the two regularly cooked together.
Friends often joked that Ms. Nukho was a combination of old-school and new-school: She gave full expression to her domestic side but at the same time she was hip, and into music and clothes. Family said she adored her niece and nephews and took care of them the same way her sister, Nicole Delaney, once took care of her. "She was like a second mother to my children. I will never forget the love she had for them," said her sister.
A help to her mother, Ms. Nukho would clean the house before the older woman returned from work. "She was the biggest joy of my life and my heart," said her mother, Kathleen Nukho. Technologically adept, Ms. Nukho worked in a store called Executive Cellular near her New Dorp home. Aside from her work, Ms. Nukho had an active social life and regularly went out with friends.
She loved music. Mrs. Delaney remembers singing along to the late rap artist
Biggie Smalls
with her sister. "I will never forget just laughing and having a good time with her," she said.
Every summer, Ms. Nukho attended the summer jam concert at Giants Stadium in East Rutherford, N.J., to see some of her favorite artists. In addition, she regularly went to Alicia Keys' performances and even met her idol at one of the shows. Ms. Nukho was fiercely proud of her heritage and her strong Christian background.
Of Greek, Irish and Arabian extraction, she was extremely interested in the different cultures. Her father is from Jordan, a fact that she found fascinating and spoke often about.
Ms. Nukho's family recently ran a blood drive in her name from Staten Island University Hospital. "She always wanted to help others. Getting people to donate blood was one way we knew we could make a difference in her honor," Dana Nukho said.
Although the impact that Ms. Nukho made on everyone she knew will not soon fade, her family mourns the experiences she will never have. "She never had the chance to have children of her own. If she had, she would have treated them the same way she did her niece and nephews," Mrs. Delaney said. Those children -- Alyssa and Patrick Costantino, and Nicholas, Christian and Dean Delaney -- will never forget their Aunt "Mima," and neither will anyone who ever knew her, said her family.
Ms. Nukho is also survived by her brother, Jonathan Nukho, and by her sisters, Elizabeth, Jennifer and Gina Nukho. The funeral was held at the Colonial Funeral Home, New Dorp, with a mass at 9:15 a.m. in St. Charles R.C. Church, Oakwood. Burial was folled in Moravian Cemetery, New Dorp.
Source: STATEN ISLAND ADVANCE
http://www.silive.com/news/advance/i...9986142330.xml