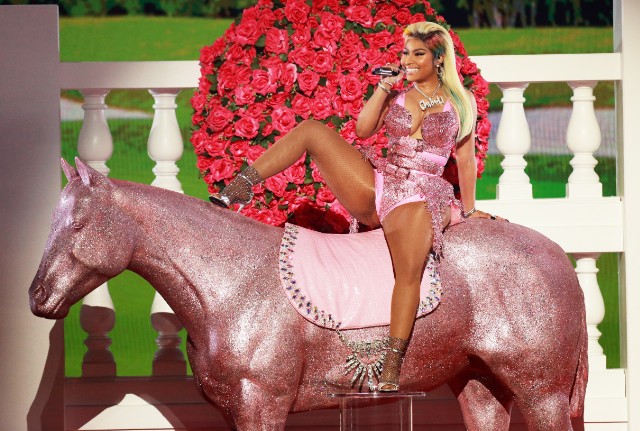 Nicki Minaj's album rollout for her new album Queen has been a quagmire: from delays that changed the original release date a handful of times to singles like "Rich Sex" and the Ariana Grande-assisted "Bed" that have mostly fizzled to a highly visible feud with a blogger and a guest appearance on a song with controversial rapper 6ix9ine that was perceived as a desperate gambit but ended up as the highest charting song the Minaj has appeared on in a few years. Under the weight of all this chaos and fizzling interest, Queen carries a heavy burden, but on it's third track "Barbie Dreams," that all at least momentarily dissipates.
Minaj's interpolation of the Notorious B.I.G.'s "Dreams (Just Playing)" is a genuinely funny, biting, pitch-perfect flip of B.I.G.'s crass fantasies about female R&B stars he wanted to fuck, making it instead a cheeky, incisive (and sometimes extremely mean) dressing down of male rappers Minaj knows she could fuck but probably won't for a host of reasons. In a recent interview, she lamented the death of rap beef, something she loved and felt had dissipated and it's clear that "Barbie Dreams" was her way of bringing that raucous energy back in a jovial spirit. Aside from using Biggie as a jumping off point, she takes a page out of 50 Cent's "How to Rob," going after nearly every noteworthy man in rap, even making 50 her first target on the record" "I tried to fuck 50 for a powerful hour, but all the n***a wanna do is talk Power for hours."
The most impressive thing about "Barbie Dreams" is just how comedically inspired the record is. The fact that Nicki is funny isn't new: she made her name as a sharp, theatrical, and imaginative punchline rapper. She's also a very harsh, cunning MC who has technical expertise and can stand toe-to-toe with anyone in a beef, but the combination of both that skill and comedic writing is expertly deployed here. In her bars about DJ Khaled, she makes reference to his Breakfast Club interview where he shared a disinterest in cunnilingus: "Had to cancel DJ Khaled, boy, we ain't speaking / ain't no fat n***a telling me what he ain't eating. She also jabs her ex Meek Mill ("Meek still be in my DMs, I be having to dump him / 'I used to pray for times like this' face ass when I fuck him") and her own labelmate Drake whom she has carried on a public flirtation with for years ("But I don't know if the pussy wetter if he's crying and shit").
Echoing Biggie, Minaj reminds us throughout "Barbie Dreams" that "she's just playing." Still, what makes the song so great is that it's just mean and personal enough to make you wonder if maybe she isn't. The song doesn't leave you thinking about whether Minaj went too far, but instead reveling in her gleeful hacking away at the pride of the men who dominate the genre. For one song, at least, Queen accomplishes its goal.
Listen to "
Barbie Dreams
":
https://open.spotify.com/track/6Poyf51k7W3NKnsGwAI90B
Source:
Spin.com