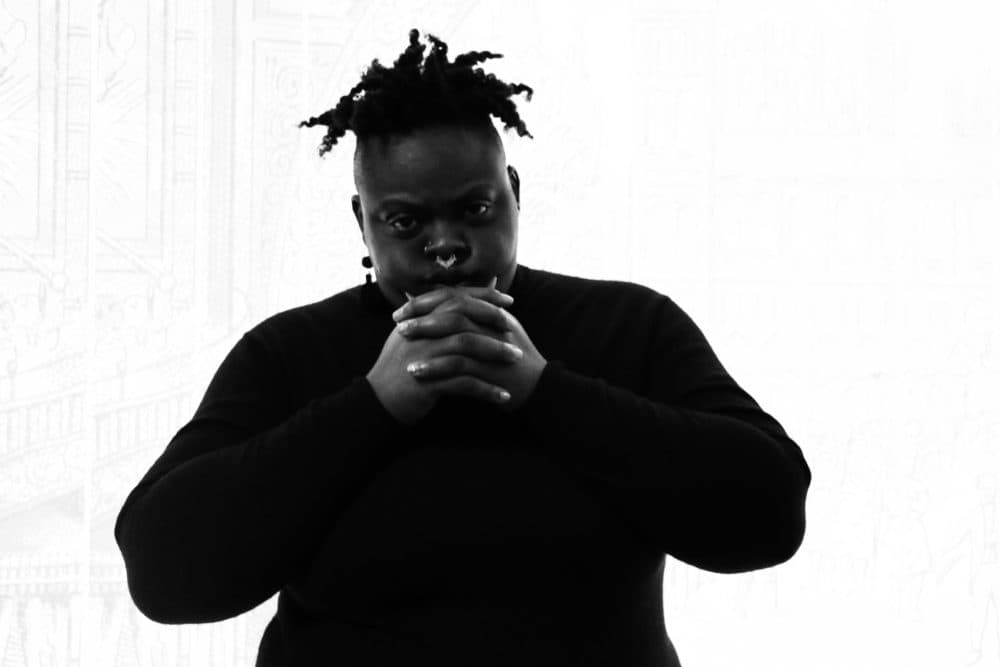 Hip-hop fans may recognize the title of O's choreo-poem, "
Black & Ugly As Ever
" as the infamous line from
Notorious B.I.G.
's 1995 hit "
One More Chance/ Stay With Me
." O's intimate connection to this line goes back a few years, when an audience member, after one of Porsha's performances, told her she reminded them of the deceased rapper. "I had long twists in my hair at the time," Porsha O said with an air of amusement as she recalled the conversation. "So I'm sitting there thinking about this... saying to myself, 'Hmm, that's interesting.'" The comparison was something O began to ruminate about and translated into her poetry.
t took O five years to write about the conflation of her appearance with Notorious B.I.G's. "Why does it take five plus years to write about something that I experience all the time?" O said. "That's what made me think, I need to explore this."
Part of what O had to figure out was how to take aspects others interpreted as negative things and reveal that those "negatives" were actually positives and that O wasn't afraid to be labeled "dark" "fat" or "ugly."
Going back to the Biggie line, O explained to WBUR, "The lyrics go, 'Black and ugly as ever / however…' and that 'however' is what I found so fascinating. In what you or society deems ugly, there's also this infinite confidence and swag."
While "Black & Ugly As Ever" is a show about racism, misogyny and privilege, the performance is dressed in nuance. When O performed excerpts from the choreopoem last month, she observed differing reactions in non Black viewers and Black viewers. "In general," she said. "White viewers said they "felt bad" while Black viewers laughed along with the show."
Everyone will be struck by different elements of "Black & Ugly As Ever." Non- Black attendants will be aware the show is partially about race but may not recognize the severity of colorism when O expands on being dark skinned in a world that values light skin. Thin bodied Black femmes will more than likely connect with O's commentary on colorism and misogyny but if they've never experienced discrimination based on their body type, they may not understand her exploration of fatphobia. Cis hetero audience goers could comprehend the racism and misogyny in the choreopoem but not the impact that the two have on queer identity.
Therein lies the enduring beauty of "Black & Ugly As Ever" — each person will experience something different and consequently, be responsible for their own understanding of intersectional privileges and how those privileges shape and mold their identity. O described the choreopoem as "a space to think and learn, but also a space to breathe." The goal is, by the end of taking those breaths, the audience can engage in true self reflection about their place in the world.
Source:
Wbur.org