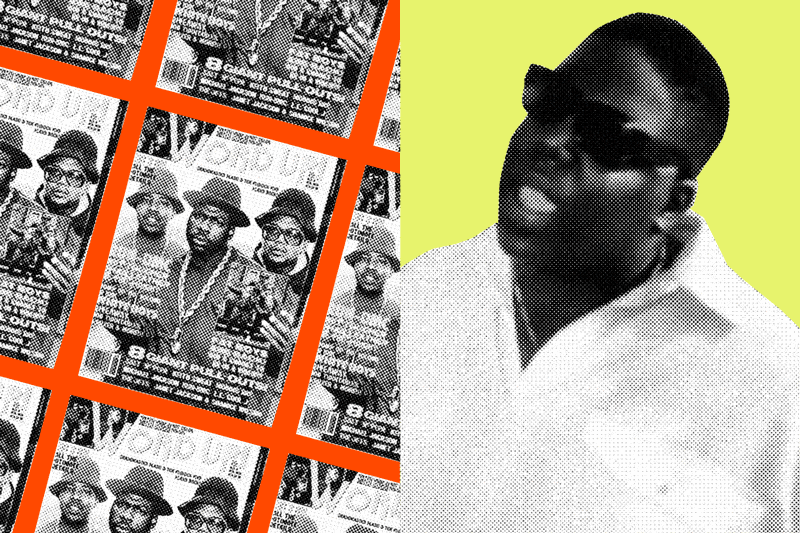 Why only certain rap hits endure—and why "Juicy" may be the exception.
One of my many favorite things about "
Juicy
," the
Notorious B.I.G.
's 1994 classic that ranks fifth in Slate's New American Songbook, is that Biggie himself didn't even like it. When Sean "Puffy" Combs declared that the song would be the lead single from the rapper's Bad Boy debut,
Ready to Die
, B.I.G. was so put off by its radio-friendly hook and bubblegum-funk trappings (I use "bubblegum" almost literally—the track was constructed around a sample of Mtume's 1983 hit "Juicy Fruit") that he insisted that the song be backed with the DJ Premier–produced "Unbelievable," a track he felt better showcased his more hardcore, "gutter" credentials.
Biggie's demand resulted in one of the greatest two-sided singles in rap history, of course, and also left us with a nice reminder that sometimes even the very greatest artists' instincts fail them when it comes to understanding what "the people" want. Or maybe, even at age 22, Christopher Wallace was just on a slightly different wavelength than the world of listeners who'd soon fall in love with his music. Twenty-four years after its release and 21 years after his tragic murder, "Juicy" remains his most beloved song, a rap masterpiece that has peculiarly endured unlike any other, as its lofty position in this list of our future oldies illustrates.
One of the most intriguing aspects of this list is the apparently precarious position of hip-hop, the most dominant musical form of the past quarter century. It's not that rap is unrepresented or even necessarily underrepresented—it accounts for three of the top five songs and roughly a quarter of the collection overall—but rather that it's just represented weirdly. For starters, there's no Kanye, Weezy, Nicki, or Kendrick, artists responsible for some of the most commercially and critically successful music of the 21st century. Instead there are great nonrap songs by otherwise great rappers ("Hey Ya," "Hotline Bling"), second-tier works by first-tier MCs ("Lose Yourself," "Empire State of Mind"), and a handful of hybrid rap/R&B tracks that are probably more beloved for their singing than their rapping ("Crazy in Love," "Doo Wop (That Thing)," "Empire State of Mind" again). Even "In Da Club," an incredible song that to my mind ought to be ranked at least 10 spots higher than it is here, feels like a track devised in a laboratory with the express purpose of ending up on a list like this. (Make a song with abundant references to sex, alcohol, and birthdays; invest the proceeds in a fledgling beverage company; enjoy your money sandwich.)
There are any number of reasons for this. For starters, rap doesn't lend itself to covers, which many of the songs on this list do. Many of the greatest hip-hop tracks have been obsessively studio-based affairs, forged from materials (turntables, samplers, drum machines) that defy easy or impromptu re-creation. Furthermore, rap is by and large an openly unsentimental form that tends to resist the calculated emotionalism and centrist earnestness that so often prevails in contexts like weddings and proms. There's no rap equivalent to "Wagon Wheel" or "Wonderwall," for instance, and thank God for that.
But all this is just the tip of the iceberg as to why "Juicy" is such a remarkable presence here. "Juicy" is in many respects a deeply weird song, a nostalgia trip of such relentless specificity it can sometimes feel like consuming a Ken Burns documentary on 20 years' worth of NYC hip-hop in the span of four minutes. If many of the other rap or rap-adjacent tracks on this list are in some way hedging their proximity to the form, "Juicy" is a rap song that's obsessed with rap itself, a bizarre and somehow completely organic mix of swagger and unrepentant nerdiness.
On its most basic level, "Juicy" is a rags-to-riches story, a classic American genre that's certainly been amply represented in hip-hop. (Drake's 2013 smash "Started From the Bottom" is just one other recent example that could have easily made this list.) "Birthdays was the worst days/ Now we sip champagne when we thir-stay," declares Biggie in a perfectly playful almost-rhyme, delivering one of the song's best-known couplets that doubles as a sort of abstract for the song itself. But beneath the song's celebration of accumulation and consumption is a generosity of spirit that raises it to the sublime. Chris Wallace is going to get huge, and he's taking everyone else with him. This would include a raft of connoisseurist esoterica that, even by 1994, had mostly faded into obscurity: Mr. Magic's Rap Attack radio show, the (maybe not so) World Famous Brucie B, the Rappin' Duke Shawn Brown, and the pioneering MC and DJ Lovebug Starski are just a portion of the names dropped in the song's first verse. "Remember Rappin' Duke, da-ha, da-ha?" asks Biggie, in reference to Brown's 1984 novelty track, and before you've even had time to answer, almost certainly in the negative, he completes the couplet: "You never thought that hip-hop would take it this far."
If many of the other rap or rap-adjacent tracks on this list are in some ways hedging their proximity to the form, "Juicy" is a rap song that's obsessed with rap itself.
Most pop anthems achieve their status because of a carefully crafted universality, the ease with which we can slide ourselves into their fantasies and imagine that these beautiful and talented stars are singing either to us or on behalf of us, any of us, all of us. (All the single ladies—note where that emphasis lands.) Hip-hop, with its focus on individuality and its premium on exceptionalist virtuosity, doesn't fit with this, and most of the greatest rappers spend almost no time trying to convince listeners that they're "just like us." "Juicy," a song so niche that it resists "relatability" at every turn, certainly can't be bothered with this. Its depictions of poverty are both startlingly bleak and flagrantly untrue. Biggie's mother, Voletta, was rightly bemused by her son's description of the "one-room shack" of his childhood, bereft of heat, birthdays, and Christmases; she'd worked hard to raise her son in a spacious three-bedroom apartment and had, by all accounts, prodigiously spoiled her only child throughout his adolescence. (The Christmas bit may have been accurate, as biographer Cheo Hodari Coker notes, but only because Voletta Wallace was a devout Jehovah's Witness.) And the song's depictions of newfound luxury are childishly outlandish—Biggie brags about video game consoles, his couch, his cars, the size of his phone bill for some reason.
So why does the song work as well as it does? One reason is its brilliant production, the very aspect that Biggie himself found so off-putting. (Who precisely is responsible for that production has been the subject of longstanding dispute. While "Juicy" would seem to be one of the earliest exemplars of a tendency that would come to define Combs' Bad Boy house style of repurposing 1980s hits into 1990s pop-rap lucre, the great producer Pete Rock has long claimed, quite credibly, that he made the original track for "Juicy" only for Combs and co. to essentially steal it from him.) And of course there's that mellifluously catchy vocal hook, reworked from Mtume's original by the then-unknown R&B group Total.
But the most crucial reason is Biggie himself. Christopher Wallace was one of the pivotal figures of late 20th century music, a genius at turning hardcore rap into chart-topping pop through a combination of technique, artistic vision, and an absurd amount of musical charisma. "Juicy" is the earliest example of this, a song that doesn't so much "cross over" to the mainstream as it drags that mainstream into its own world on its own terms, forcibly and irresistibly. It's hard to even say what's more startling, that a song like "Juicy" is so high on a list like this or that songs like "Hypnotize," "Mo Money Mo Problems," "One More Chance," and "Big Poppa" could all pretty easily be on here too.
One of my least favorite criteria by which people sometimes judge music is "authenticity," the belief that the best music is good because it's some direct extension of a "self" that's usually been selectively filtered through narrative, either by the artist or the audience or (most often) both. Hip-hop has a particularly fraught relationship with this idea, as Biggie's own death—and the death of his one-time friend, Tupac Shakur—should always remind us. It's a belief that musical ability comes from some unique and mystical journey of personal experience, when in fact everyone who's ever gotten great at music has done so through some variation of the same experience: by loving it intensely and working insanely hard at it.
I think about this when I listen to "Juicy." It's a song about that love of music and that drive to be great at it, full of references that 95 percent of people who've ever listened to it almost certainly won't get, all crammed into a Trojan horse of a "personal" narrative that's mostly bullshit, rapped by a guy who thinks, as he's making it, that it sucks. And yet it's completely great and completely inimitable; it's the only song on this list that is, to my mind, fundamentally un-coverable. That's as real as music gets, and while I certainly didn't need this list to convince me of the greatness of "Juicy," it can't help but feel like some prophecy fulfilled. You never thought that hip-hop would take it this far.
Source:
Slate.com