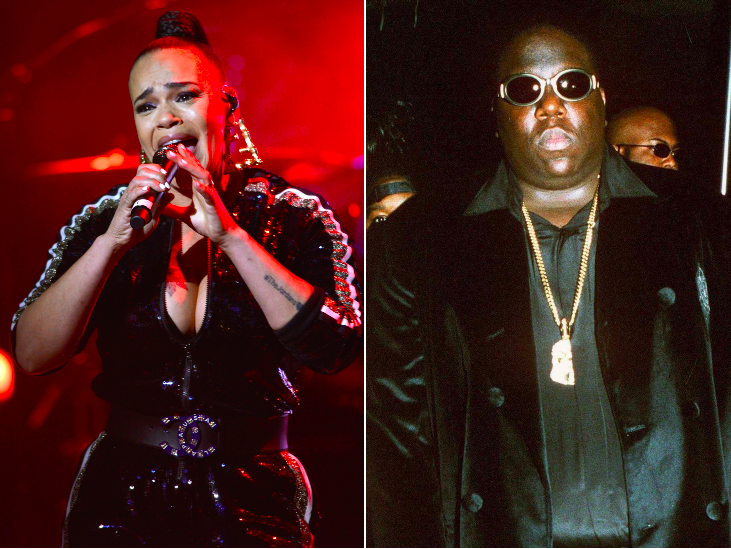 Faith Evans has condemned a forthcoming Lifetime documentary about her "intense and tragic" relationship with the Notorious BIG, claiming she was duped into taking part in it. Biggie and Faith Evans explores the singer's life with her late husband Christopher Wallace, aka the late great rapper Notorious BIG, who was killed in a drive-by shooting in 1997. Evans says she had been told the documentary would be a "positive piece" as opposed to a programme dredging up all the "sensationalised events" that occurred.
"I feel upset that I'm attached to it," she told Page Six. "I was told that it would be a positive piece with a little more of my personal background. It wasn't pitched to me as a story rehashing the sensationalised events that took place.
"I am beyond that and have no need to open old wounds, damage repaired relationships and, above all, soil the legacy of Christopher Wallace aka the Notorious BIG."
Promotional copy for the show states: "Twenty years after the iconic rapper's murder, Faith Evans is ready to confront her pain and revisit the most intimate moments of their relationship… from their whirlwind engagement, to Biggie's ongoing affairs with Lil' Kim and Charli Baltimore, to the East coast/West coast rivalry that led to Tupac and Big's deaths."
Evans, however, believes it is time to move on from those topics. "The Tupac stuff, the different women," she said, "how many times are people going to talk about that? It was supposed to be a love story, and it turns into cheating and [Lil'] Kim. We've come so far past that. [Lifetime's] all about drama."
Notorious BIG and Evans were one of hip-hops biggest power couples in the Nineties. They got married in 1994 after knowing each other for just eight days, having met because they were part of the same record label, Bad Boy Records. Throughout their marriage, Notorious BIG's affairs with rappers Lil Kim and Charlie Baltimore made headlines. Despite informally separating, Evans was still married to the star when he died in 1997.
Evans said she would not be promoting the documentary. "It's about my morals," she said. "I would never do business I'm not proud of at this point in my career. I'm not happy."
The Independent has contacted Lifetime for comment.
Source:
Independent.Co.Uk