Question, was BiG having problems with a certain mix tape DJ back in the day? Was there some kind of tension between
Notorious B.I.G.
and
DJ Clue
?
There is audio confirming there could of been some tension between both individuals. BiG never held back his feeling on Clue when address him during his never before published interview in the XXL Mag from April 2003
"B.I.G. XXL 95 Interview."
XXL:
Why don't they buy records in New York?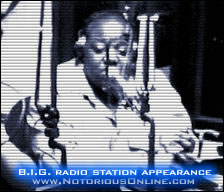 BIG: Because they got Hot 97! That shit play everything. You got Bobbito, you got Mister Cee, got got everybody, man. You got Premier. Niggas is playin' shit all the time, niggas is dubbin' shit, you got your bootleg shit. you got Ron G, Doo Wop, kid Capri, Clue...Fuck Clue! You got who else? Silver Surfer. You got S&S, Starski. You got so many mixtape niggas, man, blowin' up. A nigga can just be like, "Why should I buy the album when all the phat shit is on the muthafuckin' Doo Wop tape? And I can get a whole bunch of other phat shit all on one tape." The only reason niggas bought my shit is because I had a whole lot of phat shit and niggas couldn't put B.I.G.'s whole album on they mixtape. My sales is the biggest in New York. Nobody bought more of my album than New York.
From the quick drop, one would assume Clue was bootlegging B.I.G.'s music on the streets. You can now listen to B.I.G. calling out Clue live on with
Funk Master flex
on
Hot 97
. The audio is in the
"audio Section" (rare audio)
of the site.
Peace