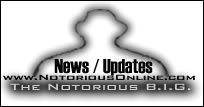 LOS ANGELES - Calling it "very disturbing" that the Los Angeles Police Department seemingly withheld internal documents from the court, the judge in the Notorious B.I.G. wrongful death case said Tuesday she would consider a request for a mistrial or sanctions against the city. U.S. District Judge Florence-Marie Cooper said an LAPD detective's explanation that he forgot about his notes on a prison informant "defies credulity. I do not believe it." She expected to rule Thursday on the motion by attorneys for B.I.G.'s family seeking a mistrial or default.
"It certainly looks to the court, at first blush, that this was a deliberate concealment of information," Cooper said. "Some sanction at this stage appears very appropriate."
Attorney Vincent Marella, defending the city and LAPD, denied there was any deliberate effort to hide documents and said he wanted trial to resume Thursday. He called the key details in LAPD documents discovered last month "a regurgitation of second- and sometimes thirdhand information by yet another jailhouse informant."
Jurors have been kept out of court since June 24 after an anonymous tip prompted new investigations by the family's attorneys and a fresh round of depositions.
The activity revolves around prison informant Kenny Boagni, who was being deposed Tuesday. In police interviews in 2000 and 2001, Boagni said that when he was in prison with corrupt former LAPD officer Rafael Perez, Perez acknowledged that while still a policeman he privately worked security for Death Row Records on the night Notorious B.I.G. was gunned down in 1997.
Although the killing remains officially unsolved, B.I.G's family seeks to hold the city liable and seeks unspecified damages.
The lawsuit claims that former LAPD officer David Mack, a convicted bank robber and one-time partner of Perez, arranged for a former college roommate to kill the rapper at the behest of Death Row founder Marion "Suge" Knight. It also claims the LAPD covered up Mack's involvement. Perez, the central figure in the LAPD Rampart corruption scandal, had not been named in the B.I.G. lawsuit.
LAPD Detective Steven Katz kept a chronological log in which he recorded meeting in 2001 with Boagni and with department officials regarding the B.I.G. killing. But the log and other documents were not given to the family's attorneys until last week.
Katz said in his deposition last week that he forgot that the log was in his desk drawer, a contention that Cooper dismissed as "absolutely incredible."
B.I.G. family attorney Brad Gage said that if a mistrial was declared, the family would seek to refile the case with Perez also named as a defendant and with a RICO claim of racketeering within the department.
Gage also said the personnel file on Mack that the LAPD supplied to the plaintiffs was missing key information, including Mack's performance evaluations from 1990 to 1997 and all but a single report on internal affairs investigations. Gage said he only learned the documents were missing last week after obtaining a so-called TEAMS report that summarizes the file.
Mack, Perez, Knight and Mack's former college roommate have never been arrested or charged in connection with the slaying. None are currently defendants in the suit, which was filed three years ago.
Source:
The Associated Press