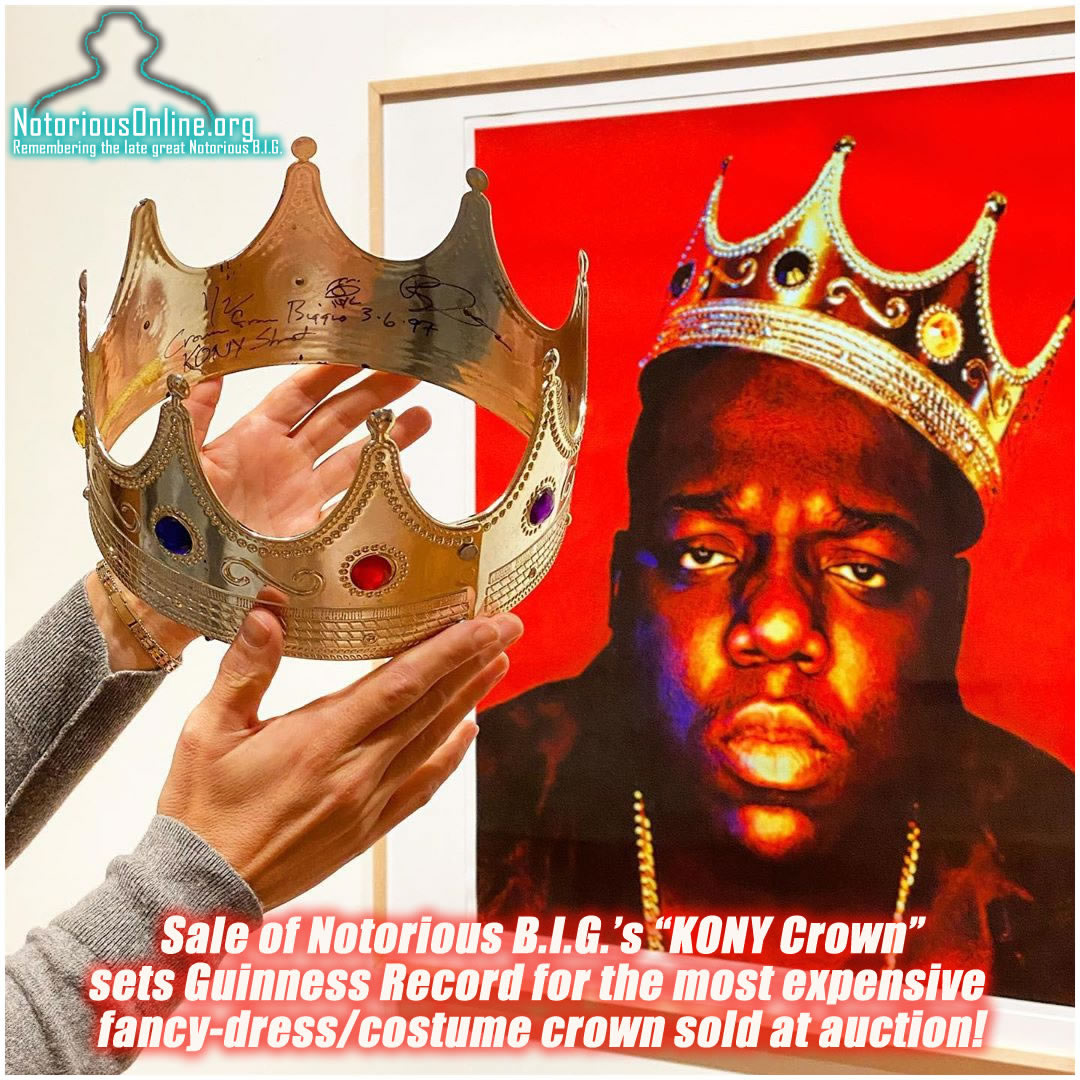 If you're a fan of 90's rap and hip hop, odds are you've seen the iconic portrait of rapper Christopher Wallace, aka The Notorious B.I.G., Biggie Smalls or Biggie, wearing a plastic crown askew on his head. The photograph was taken during the 1997 "K.O.N.Y" (King of New York) photoshoot for Rap Pages Magazine by photographer Barron Claiborne.
The plastic crown that appears in the image was included in an auction held by Sotheby's auction house on 16 September 2020 and was originally estimated to fetch $200,000-300,000. However, the crown exceeded expectations and ended up selling for $594,750 (£461,820 / €501,054) earning the record title for the most expensive fancy-dress/costume crown sold at auction.
The plastic crown, which was originally bought for just $6, is adorned with multi-coloured plastic gemstones and was signed by The Notorious B.I.G. and signed and inscribed by Claiborne with "Crown from Biggie KONY Shot. 3-6-97."
It carries even more significance as the photoshoot took place just three days before the rapper was murdered during a drive-by shooting in Los Angeles.
The plastic crown was one of many items auctioned off by Sotheby's during the first-ever dedicated hip hop auction.
The auction was held to celebrate the history and cultural impact of hip hop and included other items such as "uncle" Ralph Mcdaniels' original leather Wu-Tang Clan jacket from 1993 and a Grand Master Flash concert poster from 1983.
The Notorious B.I.G. was born in Brooklyn on May 21, 1972 and died on March 9, 1997, aged only 24.
Sixteen days after his death, his album Life After Death was released and it went on to reach No. 1 on the Billboard 200 charts. The album holds the record title for the best selling album of gangsta rap, having sold over 10 million copies in the US alone.
In May of this year he was inducted into the Rock & Roll Hall of Fame.
Other record-breaking auctions from the music industry include the largest guitar collection sold at a charity auction and most expensive guitar sold at a charity auction, which were sold by renowned Pink Floyd guitarist David Gilmour to raise money for charity ClientEarth.
The collection sold for $21,198,250 (£16,624,700; €18,642,100) including buyer's premium, while Gilmour's most fabled guitar, 'The Black Strat', a black Fender Stratocaster guitar, sold for $3,975,000 (£3,154,670; €3,545,800) including buyer's premium.
Source:
GuinnessWorldRecords.com