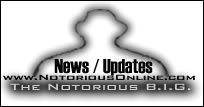 California (AP) -- A mistrial in the Notorious B.I.G. wrongful death case means the rap star's family won't get immediate answers about his slaying, but they can file a new lawsuit seeking to link his unsolved 1997 killing to a Los Angeles Police Department corruption scandal.
U.S. District Judge Florence-Marie Cooper declared a mistrial Wednesday after she expressed concern at a hearing Tuesday that the LAPD had deliberately withheld evidence. Her clerk and attorneys on both sides confirmed the ruling; a written order was to be issued Thursday.
There were only three days of testimony in the trial, which began June 21. It was interrupted when an anonymous tip led to the discovery of large numbers of LAPD documents that hadn't been turned over to family attorneys.
B.I.G., born Christopher Wallace, was 24 when he was gunned down in 1997 while leaving a crowded late-night party at a Los Angeles museum. The rotund New York rapper also known as Biggie Smalls was one of the most influential hip-hop artists of the 1990s. His albums "Ready To Die" and the posthumously released "Life After Death" are regularly listed among the best in the genre.
His family's lawsuit against the city and LAPD claimed corrupt LAPD officer David Mack arranged to have Wallace killed at the behest of Death Row Records founder Marion "Suge" Knight, and that LAPD officials covered up Mack's involvement.
Family attorneys, who had requested either a mistrial or default, plan to refile the suit with new allegations against the LAPD and Mack's one-time partner Rafael Perez.
The city had previously asked the judge to continue with the trial, arguing that any new documents largely revolved around hearsay. Assistant City Attorney Don Vincent said Wednesday he would still like "to try the case on the merits."
Family attorney Perry Sanders Jr. said the family -- including Wallace's mother Voletta and widow R&B singer Faith Evans -- didn't want to have to go through another trial but would do so. He said the case would now delve into a corruption scandal in the LAPD's Rampart division dating to the 1990s.
"We're about to get to the bottom of Rampart," Sanders said. "We're about to peel the onion back to its rotten core."
Perez was a central figure in the scandal, which involved alleged misconduct or brutality by corrupt officers in an anti-gang unit. More than 100 criminal convictions possibly tainted by police misconduct were reversed. Perez alleged wrongdoing by others after he was found to have stolen cocaine from an evidence room.
Perez was the focus of most of the recently discovered documents, which had been sitting in an LAPD detective's desk drawer until late last month. The detective said he forgot about them, a claim Cooper called "absolutely incredible" during Tuesday's hearing.
The documents show in part that Kenny Boagni, who became friends with Perez in prison, told police in 2000 and 2001 that Perez acknowledged working security for Death Row on the night Wallace was killed. Boagni, who on Tuesday refused to be deposed without his attorney present, also told police that Perez said he called Mack on his cell phone before the shooting.
Death Row was embroiled in a rivalry at the time with Wallace's Bad Boy Entertainment label, led by Sean "P. Diddy" Combs. Death Row's star artist Tupac Shakur -- who had traded insults with Wallace on various songs -- was gunned down on the Las Vegas Strip six months earlier. That killing also remains unsolved.
The rivalry was central to the theory advanced in the Wallace suit, which sought unspecified damages. But all evidence presented at trial was circumstantial, with witnesses linking Mack only peripherally to Death Row events.
Source:
Cnn.com