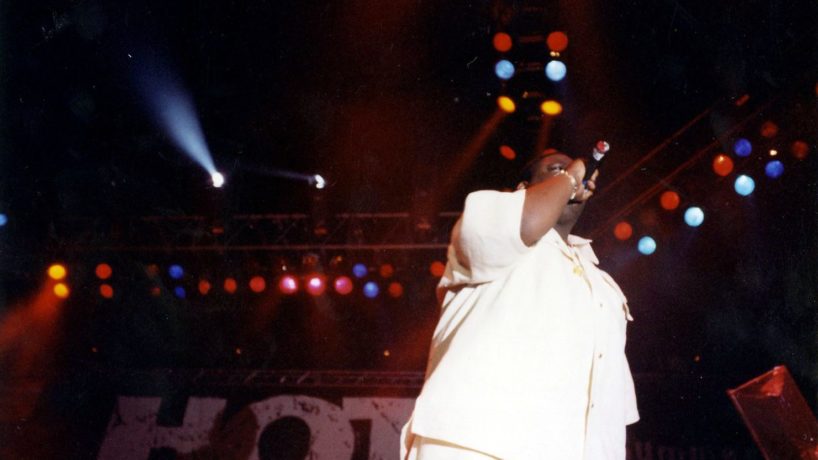 I got a story to tell…
March 18, 1997. It has been nine days since the hip hop world was stricken with tragedy once again. Another icon, killed tragically, in front of hundreds of people in the middle of a street, over a war that was bigger than him.
Surely, we could not go through this kind of tragedy again, right? We learned our lessons. But, not even one year later and we were all shocked once again.
Christopher Wallace, Frank White, The Notorious B.I.G., Biggie Smalls. Whatever you ended up calling him, in three short years he cemented a legacy that has lasted almost a quarter-century and growing using imagery through a unique cadence in which he vividly shared the stories of not only himself, but the surrounding community he grew up in on the corner of Fulton St. & St. James Place in Brooklyn, New York City, New York.
At the time Biggie. had just finished his sophomore album, Life After Death. It was a project he was excited about, ready to show the lighter side of his personality, his growth, and to showcase that he would indeed be here for a while.
And just like that, it was all taken away.
On March 9, 1997, the Notorious B.I.G. had presented an award at the 1997 Soul Train Music Awards. Afterwards, he attended a Vibe Magazine party at the Peterson Automotive Museum in Los Angeles. Wearing a Bernini sweater, Karl Kani jeans, and Timberland boots, the rapper left the party at about 12:30AM PST. He entered the passenger side of a GMC Suburban, which was sandwiched in the middle of the crew's 3-car caravan.
As they stopped at Wilshire Boulevard and South Fairfax Avenue, only feet away from where they were just partying, a Chevy SS Impala pulled up to the car and shot at the door where Biggie sat. The 24-year-old rapper was declared dead at Cedars-Sinai Medical Center at 1:15 a.m. His body was identified Sunday afternoon at the Los Angeles coroner's office by his ex-wife, singer Faith Evans, and his mother, who flew in from New York, officials said.
His next album was set to be released two weeks later, Life After Death . . . Til Death Do Us Part.
It was time to bring him back home to Brooklyn.
Wallace's body was flown back to New York where friends and family could pay their last respects.
On Sunday, March 18, 1997, nine days after his tragic passing, over 350 of hip hop's biggest stars, friends, and family entered Frank E. Campbell Funeral Chapel in Manhattan. Jay-Z, Da Brat, Mary J. Blige, Busta Rhymes, Foxy Brown, Run DMC, were only some of the names that were included.
Faith Evans drew tears with a powerful rendition of "Walk With Me, Lord." Diddy shared a personal story that the attendees in which he addressed how he saw Biggie's growth and the kind of man he had known, and that his friend was becoming. Wallace's mother, Ms. Voletta Wallace serenaded the attendance by reading scriptures as they sent the Brooklyn native home.
Biggie was Brooklyn. He lived and breathed the city that raised him, and helped him become the man he was at the time. He showed it through his lyrics, the words in his interview, and his performances across the world. It was appropriate that the fans that he touched so much was able to say their last goodbyes.
It was a cloudy, 47 degree late winter day. Biggie's body was getting ready for his last ride. As mourner's exited the Frank E. Campbell Funeral Chapel in Manhattan, Christopher Wallace's casket was put in a hearse. The journey then began back "home" as it left Madison Avenue and 81st Street on the Upper East Side. Noting the importance of the event, the limousines carrying the family of The Notorious B.I.G. were led by police escort.
Fans had been filling the streets of Brooklyn since 10 a.m. that morning waiting for one last glance of their hero. To not cry in sadness of his passing, but to smile at the celebration of his life and accomplishments. He made it out of the block, and became a legend.
At 2 p.m. EST, the motorcade crossed the Brooklyn Bridge and made it to Clinton Hill and Fort Greene where fans began to gather. Then it made one last turn onto Fulton Street. It was the block where he grew up. 226 St. James Pl., Apartment #3L. Just around the block is where he used to pack groceries.
Sadness turned into happiness. The streets were flooded with people looking to get one last goodbye to their hero. Everyone was surprised at the turnout. At one point, something special happened as the hearse slowly passed through his childhood block. Someone decided to play his hit single "Hypnotize," which became the anthem of the moment.
Maybe that moment was a sign everything was going to be ok. A sign from Biggie to tell us that his legacy will live on …. forever.
R.I.P. Biggie.
Source:
Hot97.com