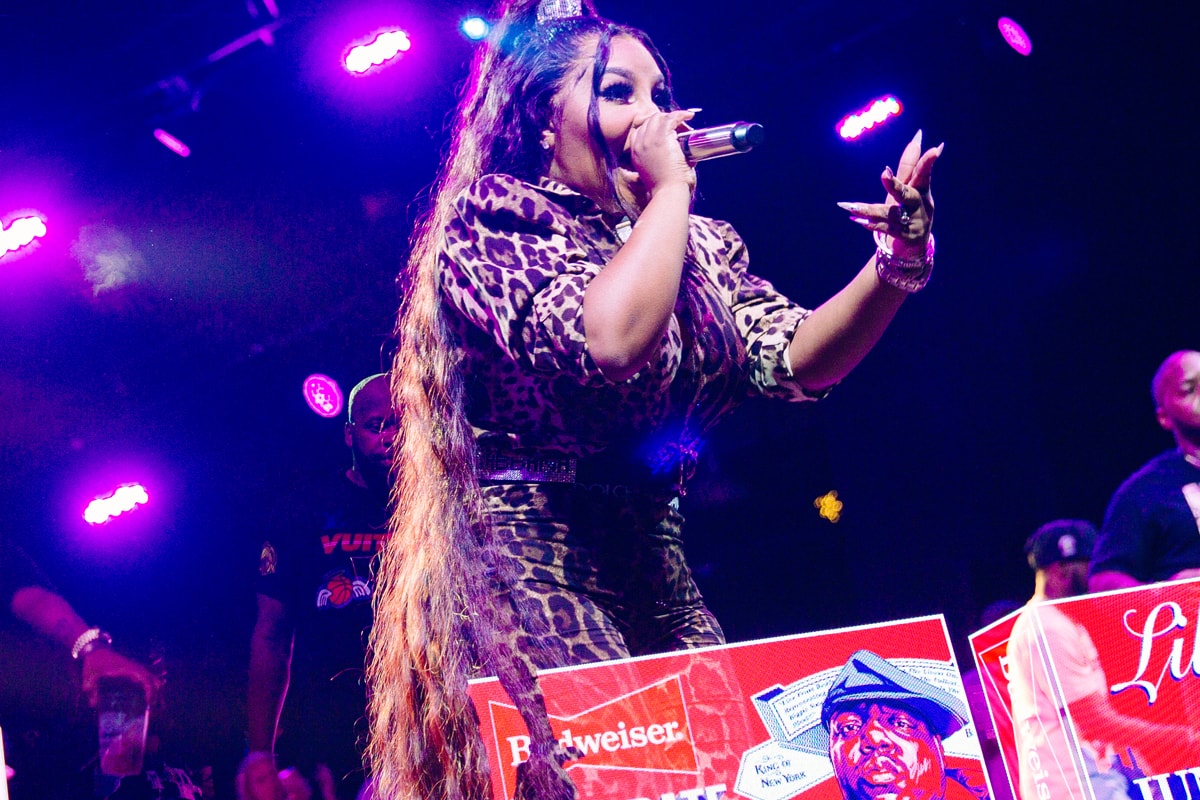 Rap royalty – and huge crowds – turned out for the Celebrate Biggie concert in Prospect Park on Thursday. "We out here for BIG." Lil' Kim got it right; Brooklyn showed up for hometown hero Notorious B.I.G at a tribute concert that attracted rap royalty to the borough on Thursday night.
Lil' Kim, Busta Rhymes, The Lox, Junior Mafia and more took to the stage at Prospect Park's Lena Horne band shell for the Celebrate Biggie show sponsored by Budweiser as part of*BRIC's free summer-long concert series,*Celebrate Brooklyn.
And it felt like half of Brooklyn came out for the show too, with lines to get in snaking through the park and down Prospect Park West.
As BRIC said, a show honoring Biggie isn't only about the man himself. It's about a culture. It's about Brooklyn. It's about hip-hop. And the crowd was ready for it.
DJ StephCakes got everyone warmed up with some Biggie classics while people found their spots in the pit or sat up on the grass with orders of jerk oxtail and rice, free Biggie-faced Budweiser tallboys in hand.
DJ Stretch Armstrong of the Stretch Armstrong and Bobbito Show – the first radio show to broadcast Biggie's voice on the airwaves – followed on the decks and took the crowd to Jamaica in honor of Biggie's home country.
Then came The Lox.
The group brought the energy to the stage and got the crowd jumping for the arrival of the Lil' Kim herself – decked out in full animal print with her hair in waves almost touching the ground.
During her 30 minutes set, Lil' Kim made sure her audience knew she was there for Biggie and she was there for Brooklyn, leading the crowd in a music and lyric-less rendition of Juicy. And she brought her classics like*Get Money,*Magic Stick,*Crush On You, and*Quiet Storm*with her.
And of course, she had Brooklyn put their*Lighters Up,*ending her set with a moments silence for Biggie and DMX.
While the group next to me debated if the 90s truly hit different with its music, Busta Rhymes made his entrance in a Biggie inspired red leather jacket and bucket hat, and in true Busta Rhymes style: fast.
Busta Rhymes shared the stage with Spliff Star and the pair had the audience – even those at back with food trays and picnic rugs – on their feet jumping to classics like*I Know What You Want,*Look at Me Now,*Pass the Courvoisier*and*Put Your Hands Where my Eyes Can See.
And as he said as he closed his set: "The biggest shout out goes to the Notorious Glorious B.I.G… and to Brooklyn."
Check out the photos from the concert below:
Source:
BKReader.com