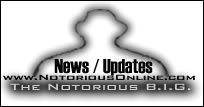 Volleta Wallace, the mother of The Notorious B.I.G., recently lashed out at Los Angeles city lawyers for claiming that the family's wrongful death lawsuit was motivated by money. Volleta spoke out a day after a federal judge declared a mistrial because an LAPD detective hid records that indicated two crooked cops in The Notorious BIG killing.
"I would like to make this perfectly clear - this lawsuit was not about money. It was about honesty, integrity . . . it was about a cover-up. It had nothing to do with dollars and cents," Volleta said in regards to comments made by attorneys for the city of Los Angeles. "Eight years ago my son was murdered in this city . . . and all that time I have labored with pain and sweat just to find out the truth about what happened to my son . . . The truth will come out!"
Shortly after the mistrial was declared, a federal judge ordered the city of Los Angeles and the police department to pay the family's lawyers "fees and costs incurred as a result of defendants' misconduct." The amount has yet to be determined.
The mistrial was announced by Judge Florence-Marie Cooper after she dismissed the city's claims that LAPD detective Steven Katz forgot about a secret file and two videotapes hidden in his desk drawer until his office was searched last month. The documents describe Katz' investigation of a prison snitch's allegations that former crooked LAPD cops Rafael Perez and David A. Mack took part in the rapper's murder.
According to Cooper, the LAPD still hasn't turned over other files to the Wallace family; including roughly 15 personnel complaint investigations on Mack. Mack is presently serving a 14-year prison sentence for armed robbery.
"The detective, acting alone or in concert with others, made a decision to conceal from the plaintiffs in this case information which could have supported their contention that David Mack was responsible for the Wallace murder," Cooper wrote in a legal order answering the Wallace family's demands for a mistrial and sanctions.
Now the Wallace family has vowed to re-file the suit after viewing the new files hidden by the LAPD. Sources say the family will now name Perez as a defendant and accuse LAPD of racketeering. Perez' lawyer, Winston McKesson, said if the Wallace family sues his client, Perez would answer with a malicious prosecution suit.
In a recent news conference, Police Chief William Bratton, emphatically denied that the LAPD had covered up for Mack and Perez's actions.
"What the hell do we want to protect those two scumbags for?," Bratton stated in regards to Mack and Perez. Bratton added that the department was probing Katz's "oversight."
An anonymous tip, believed to have been made by a former LAPD employee, gave the Wallace family evidence of the police department's involvement. The concealed records include a videotape confession made 5 years ago by a prison informant who testified about Perez at a departmental disciplinary hearing in 2000. The informant, Kenny Boagni, who befriended Perez in prison, told detectives in 2000 and 2001 that Perez admitted to working security for Death Row and that he called Mack the night of Biggie's killing. Perez is the key figure in the LAPD Rampart corruption scandal.
Source
:
Sohh.com