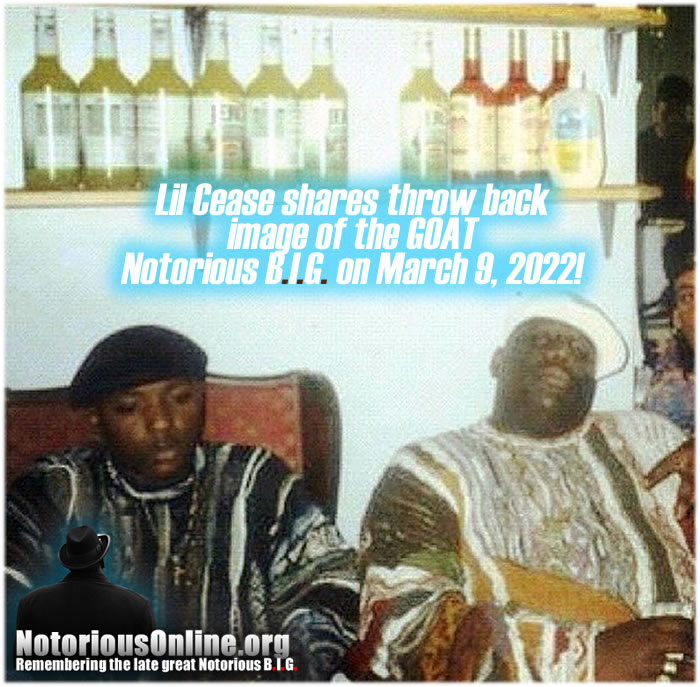 On March 9th, Lil Cease came on Instagram to share a rare throwback image of the GOAT Notorious B.I.G.. The image shows both himself and Biggie wearing signature Coogi sweats. Biggie wearing light brown sweater while Lil cease is wearing a darker collage sweater. Bother are rocking similar Kangols. Thank you Lil Cease for continuously representing Biggie memories all these year and for keeping us updated on B;I;G;'s universal legacy.
Lil' Cease, is an American rapper and former member of hip hop group Junior M.A.F.I.A. formed by the late great Notorious BIG. Cease released his first album, Conspiracy, with Junior M.A.F.I.A. in 1995, and gained mainstream attention with a memorable verse on "Player's Anthem", the album's highest charting single. Frequent name dropping from mentor The Notorious B.I.G. throughout Cease's career helped keep the young rapper in the spotlight.
Cease also featured on Def Jam's soundtrack for the 1997 comedy film How to Be a Player alongside LeVert, Cam'ron and Mase. He is also known for being a featured artist on Lil' Kim's record Crush on You from her debut album Hard Core, which was a number 1 hit on the Hot Rap Songs chart. Rapper Cam'ron revealed that he wrote the original rendition of the song Crush on You.
After making guest appearances on other artists' albums, Cease released his debut and only studio album The Wonderful World of Cease A Leo in 1999. It peaked at #26 on the Billboard 200 and #3 on the Top R&B/Hip-Hop Albums, and features Jay Z, Lil' Kim and Bristal. In 2005, Lil' Cease, Banger and MC Klepto reunited Junior M.A.F.I.A. and released the group's second album, Riot Musik. In January 2009, Lil' Cease released "Letter to B.I.G.", which sampled "Letter to B.I.G." by Jadakiss from the soundtrack to the film Notorious.
Source:
Instagram.com