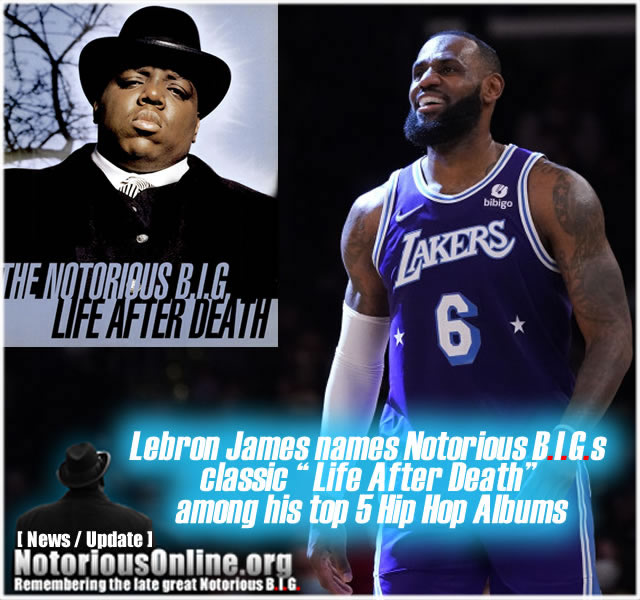 LeBron James is a noted Hip Hop junkie who has spent most of his NBA career rubbing shoulders with rap's elite, but which five rap albums rank among the very best for King James? The Los Angeles Lakers superstar answered that very question during a Twitter Q&A on Monday (May 16).
After one of his 51.3 million followers asked him, "Top 5 hip hop albums?," LeBron reeled off classics from Dr. Dre, Snoop Dogg, JAY-Z,
The Notorious B.I.G.
and Nas.
Top 5 hip hop albums?

— Sierra Porter (@SierraAPorter95) May 17, 2022
"The Chronic, Doggystyle, Black Album,
Life After Death
and ummm It Was Written," he replied. "But I have so many more to name for real!"
LeBron James' favorite rap albums aren't too dissimilar to his list of top five MCs, which he revealed during a similar Twitter Q&A back in 2012. "Biggie, Pac, Jay, Eminem, Nas," he answered at the time.
LeBron James isn't only a fan of older Hip Hop, though. He's also a big supporter of rap's new generation, having co-signed the likes of Russ, Tee Grizzley and fellow Cleveland native Doe Boy among many others in recent years.
In fact, LeBron's Instagram account doubles as a reaction channel to the latest rap releases, as well as a place where fans can get an early listen of new music — like when he previewed Kendrick Lamar's DAMN. ahead of its April 2017 release or played a snippet of Snoop Dogg, Busta Rhymes, Jadakiss and Benny The Butcher's "Murder Music" collaboration last October.
King James has got involved behind the scenes, too, A&Ring 2 Chainz's 2019 album Rap or Go the League and using his star power to convince Top Dawg Entertainment to release Kendrick Lamar'suntitled unmastered. in 2016.
Last year, LBJ even flirted with the idea of releasing his own rap album, although he clarified he'd simply curate the project (ŕ la DJ Khaled) rather than rap on it himself (not that LeBron is a stranger to spitting rhymes on the mic).
Source:
https://hiphopdx.com/news/id.70317/t...-albums#signup